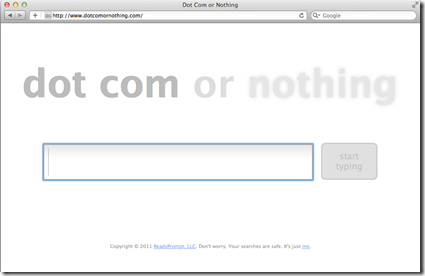 Early Friday morning, I was thinking that if I could get an instant domain search going, I could hook it up to Hover.com and send them traffic (because they're awesome) and get some affiliate revenue when someone bought a domain with them. After work Friday I started coding, and Sunday night I finished it: http://dotcomornothing.com Ah, weekend projects.
At the time I started coding, I wasn't a Hover affiliate. I didn't have an appropriate site to mention on the affiliate application, so this site was made before I even filed for approval. Glad I was approved. Whew!
The folks at Hover were pretty enthused to see this, and the dev team was stoked:
Woot! That was awesome. I ran it by the Dev team and their reactions were, "See? Now THAT's how we like to see people use our [~stuff~]". LOL

Actually, funny that you were able to figure that out with the domain look-up, because that's new and you couldn't do that before. Dev just updated some code recently, so they're quite impressed with themselves now, because this is exactly what they wanted to happen.
I know the integration of the coupon code is non-existent, but hopefully they will have a way to integrate that in so you won't have to copy/paste it. Just not supported right now except thru this link: http://hover.com/ReadyPrompt
Why Hover? I've been a big fan since last November. You may remember my post "Ditching GoDaddy for Hover".
There was some coding trickiness to building the site, and there is a lot of optimization and caching going on, but it's blazing fast and helps you cut through the jungle of reserved domains to help you find the next great domain.
For some explanation on the name and some SEO fodder, I had to put some hidden text in the page:
For anyone buying a domain for a new startup, it's an important, and sometimes terribly expensive choice. This post by Fred Wilson: Finding And Buying A Domain Name is a good start, and is immediately followed by an outstanding comment on why dot com is the only TLD that matters and continues on to how to negotiate a dot-com name by contacting the domain owner cold.
Here's the deal. The only domain name that matters for your startup is .com. Dotcoms got their name in the 90s because they represent business. Dot-com is the money TLD. Even companies like del.icio.us and bit.ly eventually had to buy their dot-com counterparts. There's just too much mindshare about .com.
With domains, it's "fake it till you make it", so if your startup is successful with a .ly, .it, .us, or whatever, that's great, but know that you'll have to break down and get a name-appropriate dot-com once your business blows up. One exception is short URLs. When going short, dropping one character and having that .co, .ly or similar is nice to have. I've got rdpt.co.
Now go get yourself a "fresh from the oven" dot-com!
Next post: How to Cache PHP Sessions in Membase