Whether you have a good-sized customer base and email list or you've got a nice blog following going, at some point you're going to want to blast out an email campaign to everyone. It's not as easy as writing out a nicely formatted email in Outlook and sending out a big BCC to everyone. Don't do that. Seriously, don't.
There are a number of factors that go into a good email campaign:
Your customer list has to consist of people who have opted in to receive email from you.
The email message you create to send to your list has to look good in multiple email clients, including webmail.
Your email message has to include a special footer with wording and instructions that conform to the CAN-SPAM act.
Your email message, server you're sending through, it's IP, and email headers, etc, should not raise any red flags with spam filters. This is usually harder than you think.
Once your users receive the email, how can you measure how effective it was?
How will you manage unsubscribes?
So how can you do it easily?
There are 2 options, depending on how much work you're willing to do:
Carefully craft your own email and test it in multiple email clients and send it programmatically through a mail service.
Use a service online to manage your lists, generate email campaigns, do the sending, manage unsubscribes, provide analytics, the whole thing!
Today I'll go over option 1 with two services to give you most of what you're looking for. Tomorrow I'll cover all-in-one services.
Do It Yourself (with Help)
Litmus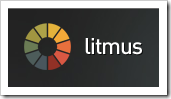 Litmus is an email testing service, but also includes measurement tools. You can use it even if you have an all-in-one email campaign management system.
So you've crafted a beautiful email message, complete with images and CAN-SPAM goodness. Litmus will show you how it looks in over 30 different email clients (including mobile), ensuring that your message won't get lost in bad formatting. Also, you'll be adding links to your email as a call to action, so users will be clicking the links and seeing landing pages. Litmus will test your landing pages in 24 browsers to ensure what they see is what you expect.
Then the service checks the email through a gauntlet of spam filters, making sure that your wording doesn't trigger your email to be classified as spam.
In addition, Litmus adds special tracking to the email that you send, and can determine how many people viewed, forwarded, even printed your email.
It's not free, and you don't get analytics until you subscribe to the $99/month service, but if much of the revenue of your business is based on conversions from email campaigns, it is easily worth it.
CritSend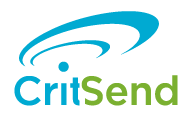 CritSend is the other half of the equation. Once you have your email campaign loaded and ready to fire, this service will be your machine gun. Also offering comprehensive and easy to integrate campaign analytics, CritSend is your conduit to send large amounts of marketing email or newsletters.
CritSend's Deliverability Engine ensure that your messages contain the correct signatures from whitelisted servers, your email comes from a clean IP (some IP addresses and neighborhoods are blacklisted, ya know) and that all your email is delivered, whether it's a newsletter, invoice, order receipt, or social networking notification.
They offer 2 methods: SMTP relay and API. You will still need to have your server generate the correct message and insert information specific to a single user (like giving each a unique unsubscribe link), and then use your server to connect to CritSend's server, either as an email server or using their API, and start sending.
At $1 per 1000 emails sent, it's an affordable pay-per-user service. There is no monthly subscription, which makes it a smart choice if you don't tend to send mass mailings often.
Next post: all-in-one email campaign services