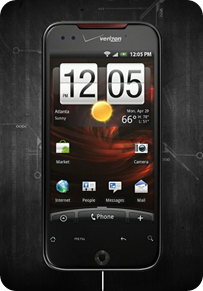 Not too long ago, I wrote a lengthy post called "I'm Your BlackBerry" where I explained how great my BlackBerry is for getting business done. I was at that point shopping for a new BlackBerry to replace my aging one.
Then a little over a week ago a buddy of mine was showing me his new Droid Incredible. It was mighty impressive. It was fast, beautiful, had a polished user interface, and did everything my phone did (camera, wi-fi, web browsing, multiple email accounts, etc) but better.
But there was one thing it was missing that my BlackBerry had. A real keyboard. Without a real keyboard I could never make the jump. But there is something special about the Droid Incredible that got me past that. It has one special feature that acted as a bridge for this BlackBerry veteran. When you press keys on the virtual keyboard, it reacts with a very small vibration. That tiny "buzz" tells you you've hit a key, as well as the magnified key that pops up (like on an iPhone). So three days later I bought one. That tiny buzz helped me across the chasm to a keyboard-less phone. In fact, I wrote yesterday's post on Payment Models completely using the WordPress app.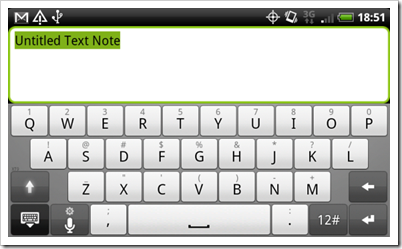 The Droid Incredible lives up to its name. This phone is outstanding.
Nice Features
8 MP camera (auto-focus and full setting control)
Record crisp video - upload directly to YouTube (480p)
Handles multiple email accounts
Multi-touch zoom
Wi-fi, bluetooth, GPS
Micro SD card support
Special Features
Built-in Navigation with turn-by-turn directions
Built-in FM Radio
Enhanced "buzzy" keyboard
Flash support - went straight to This Week in Startups and started watching videos
Connect via USB to your computer and transfer files between handset and computer, nothing extra needed
Speech to text is really good, saves typing. Note the microphone on the keyboard above? It's always there, so you can speak instead of type.
Special Apps
Built-in viewing of Office formats and PDF
PDF is searchable
Skype - can IM or Skype call
PDANet - tethering for your laptop (got 1.5 Mbps down, 500 Kbps up)
Layar - overlay geo-based data
Note: A special note about a very special app. UStream has an app that allows you to broadcast directly to the web.

I can call someone on the phone at the same time, and they can watch me (and hear me) on UStream as I live broadcast. It works so well I had to break this out as a special note here. So if you're somebody famous and want to send a live message to all your followers, jump on Twitter, send your UStream link, and then start broadcasting while you're at the big game, that startup conference, or in your limo.
Other Recommended Apps
AndroZip - file manager, also handles ZIP, RAR, 7ZIP, GZIP, TAR, BZIP2
Twidroid - the best Twitter client for Android
DoubleTwist - slick media player
DropBox - sync files between computer and handset without wires
Evernote - sync notes and images
Google Sky Map
Why not get an iPhone?
For one, I've heard too many bad things about AT&T. In addition, currently iPhone only supports "selective" multitasking and not true multitasking. I want to listen to Pandora or RadioTime while reading tweets, reading RSS feeds, looking over my photos or browsing the web. Don't make me re-open FourSquare or any number of apps, just keep them running in the background.
Also, with all the controversy over Flash, the app store approval process, special phone and network restrictions, and all that, it's nice to not have to worry about the fallout of a company's weekly drama.
Next post: E-mail marketing and newsletters