My last post covered getting your email campaigns out on your own. Today will cover all-in-one email services. These services will handle subscribes/unsubscribes, email composition, CAN-SPAM compliance, will keep your email looking consistent across many email clients, send email for you, and keep analytics on opens, bounces, and clicks.
I'm not going to go into deep analysis of all these services, because I haven't used them all. To be honest, most of this will be truth, half-truth, rumor, and conjecture. So enjoy.

I've used MailChimp for a couple of zKorean campaigns. They have a massive feature list, way too much to go over here, but I want to mention a few things beyond the list I mentioned at the start of this article.
Customizable Newsletter Signup Form
In order to make sure people you send mail to really want mail from you, it's best to have them opt-in instead of opt-out. The "Become an Insider" link on this site is a link to my MailChimp signup page: http://eepurl.com/oaj1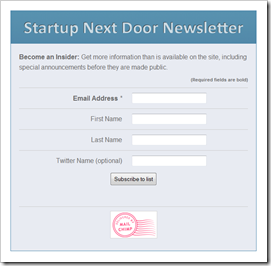 I like it because it mimics aspects of my site, instead of some bland, sterile form.
Full-featured API
For the programmer types who want to do everything from the comfort of their own site, the API allows you to sync users, subscribe/unsubscribe users in your campaign lists, and display report data in your own way.
Plugins
Not much of a programmer? Grab one of the plugins made for your platform (there are many).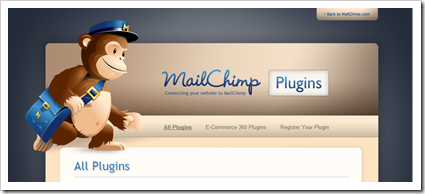 Pricing
MailChimp has flexible and affordable pricing plans, whether you send campaigns often or not. Their pricing plans have you in mind.
What I don't like
The only problem I had was during the email composition portion. I found myself starting over again a few times. A friend also has some frustration during creation and expressed that he wanted to go back to ConstantContact.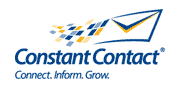 ConstantContact goes beyond email marketing to include surveys and event marketing. So once you have a solid list of customers, you can create a complete momentum loop for your business, whereas you get feedback from customers through surveys to help you build better products, and event marketing in order to meet your customers and further your business relationship.
NutshellMail
ConstantContact also offers NutshellMail, which sends you an email regularly that contains all mentions of your company or brand across LinkedIn, Twitter, Facebook, and others.
Pricing
The pricing plans for ConstantContact are remarkable because they really have the customer in mind, not with a finance spreadsheet in mind.
Pricing plans for email marketing are based on flat monthly rates based on the size of your contact lists. So you can send as many campaigns as you want without affecting your monthly fee. And non-profits get a pre-pay discount. Nice.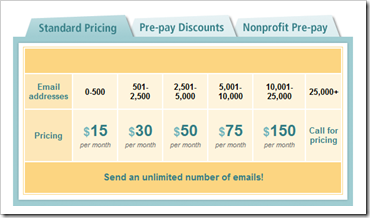 For surveys, pricing is purely on responses received.
For event marketing, you only pay for the number of open events you're running, and is unlimited on participants.
You shouldn't be penalized for running a successful, popular, interesting event
Cool, right?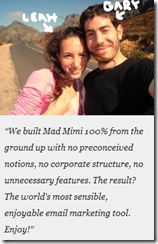 Was mentioned by Seth Godin, so I'm passing it along. And you gotta like the about us photo. I like the feel of this company. They have developers and owners answering support calls.
The campaign creator is a really nice tool, with an intuitive, easy to use, and very pleasing interface. Their templates are well done and fresh, and won't make your campaign look frumpy.
And don't let the simple site fool you. There's a wealth of analytics, a good API, and mass features that await you.

Emma is different from all the above in that it's a custom shop by default. They design customized email stationery for your business so your campaigns really pop.
Even though it's custom, it's affordable, and since you're sending campaigns in order to continue a business relationship, interest your customers, and get them to act, the Emma custom design concept is a smart one.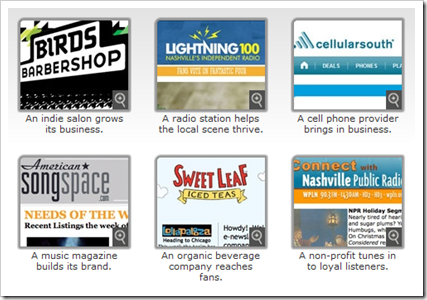 Like all these services mentioned, Emma supports your campaign with campaign email distribution, analytics, response tracking, and list management.
Next post: don't let your startup get you sued