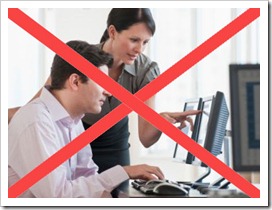 Don't use photos of people pointing at computers.
You've come up with a brilliant startup idea, and perhaps have even completed the site, but at this point it's just working wireframes. It's ugly. It's time to employ your design skills to make it appeal to people. But if you're like me, your design skills are not up to the task? So what do you do? Hire a design firm at thousands of dollars? That could work but it kind of goes against the cheapskate theme I have going here. What you need are some attractive, ready-made site designs!
For site themes, there are hundreds of really bad theme sites and thousands of horrible themes. ThemeForest is a shining island in a sea of mediocrity. ThemeForest offers HTML and PSD-based site themes, and the quality is surprisingly good.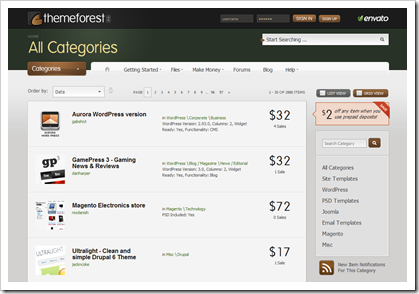 For the quality, you'll pay surprisingly little. Themes range from $15 to about $35, and for that you will be getting a theme that has been used on a few other sites, but it will look attractive and will suffice until you're raking in megabucks and can afford custom work.
In addition to basic site templates, they also offer almost as many WordPress, themes. In fact, many times you'll be able to find a site theme and its matching WordPress theme from the same designer. Many times, these WordPress themes are heavy modifications that turn your WordPress blog into a complete content management system. Pretty amazing stuff.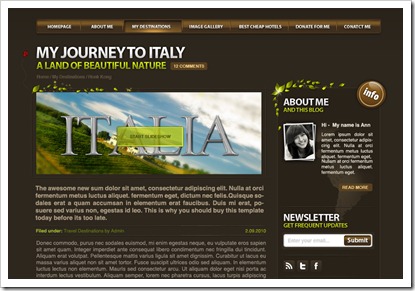 ThemeForest also offers themes for Joomla, Drupal, Magento and even email.
Shop Locally
There must be thousands of nascent web designers out there looking for a chance to design a cool website for you and get it on their resume. It won't be free (unless they offer), but it will be cheaper than a full-time, experienced web designer. Checking on Craigslist under Resumes/Jobs Wanted or your local university or community college are good places to try. Community colleges tend to have web design classes for college-aged students and adult education, so you'll find people who are getting their feet wet in Photoshop and other graphics toolkits.
When you're deciding, take a look at some of the ThemeForest stuff, as well as sites mentioned in these posts:
You'll get a good idea of what modern design looks like. Look for elements like these in your designer's portfolio.
If you've got a good design, but need something to make it look a little more vibrant, a special design element, or just some rock textures, GraphicRiver (a site in the same family as ThemeForest) is an affordable way to fill in the gaps in your design. The items are quite affordable, and you'll get $2 off each purchase for using funds in your pre-paid account.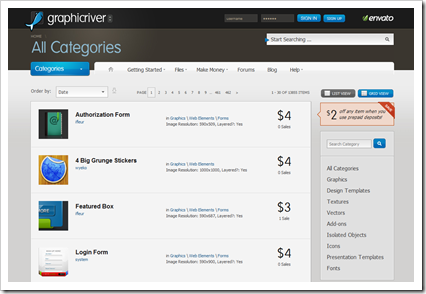 Even if you're looking for something as simple as a Twitter background, this is a good place to start. In fact, if you shop around GraphicRiver, you'll probably discover some elements that resemble elements on this site. I bought quite a few files and modified them to match my design.
Call for Comment: Are there sites you recommend for good templates or design elements? What experience have you had with your local web designer?