My latest startup is TalkToTheManager, which is a departure from the consumer-focused startups I've done in the past.
This announcement is a little late, since I actually launched on March 4th, but I was holding back on an announcement until I could get some good market traction.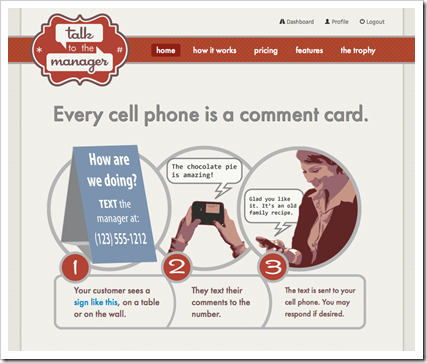 Read more after the break for details.
TalkToTheManager helps businesses improve their online reviews by allowing customers to send anonymous text messages to the owner and managers at an establishment, who can reply by text message if desired. By resolving complaints while customers are still in the establishment (or even after they leave), customers are less likely to write negative reviews online.
TalkToTheManager (TTTM) has many advantages over traditional comment cards, but mainly TTTM is a completely anonymous proxy, so the customer doesn't see the manager's phone number, and the manager can't see the customer's phone number. So the customer is free to give honest feedback, and the owner can respond to fix any issues.
Additional features for business owners:
Put messages on hold for a while (they'll still come in but not to your phone). Can check then online later.
Block an abusive customer's messages.
Broadcast a message to the other managers at your establishment, like an internal group messaging tool for your cell phones.
No apps or smartphones needed. Every cell phone can send a text.
Many more - check out the growing list.
When a business signs up, they are assigned a phone number for their establishment. How they choose to encourage users to text their comments to that number is up to them, but we have some preprinted signs, stickers, and downloadable PDFs that are print-ready.
Even after only a month, TalkToTheManager is already in use in businesses in four states. The service is open to all businesses in the US and Canada. All are welcome.
Pricing is only $15 per establishment per month, which covers 500 messages, and any over that are 1.5 cents each. Most small businesses will not go over 500 in a month.
The use of TalkToTheManager itself has drawn comments to the owners that they are "brave" and "gutsy" to use a system that delivers completely anonymous, real-time comments right to their phone. Owners display the TalkToTheManager signage as a badge of respect for their customers, showing that the owner and managers care and are ready to listen.
So check it out. If you know of a business owner that would be open to trying it out, send them a link. Even using it for one month will be an eye-opener for them, I assure you.