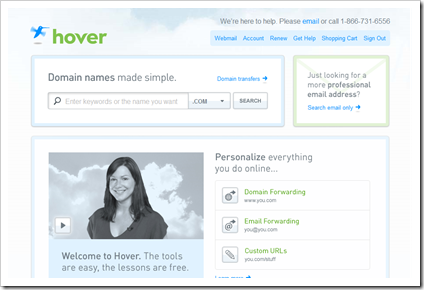 After using GoDaddy for about 4 years, I ditched them and switched all my domains to Hover.
Why?
GoDaddy is the Hooters of the domain registrar world. Their self-controversial "too hot for TV" ads are a pathetic attempt to stand out in the competitive domain registrations space. I'm not their target market because I look for quality, and sex appeal does not compare to quality. I don't want to support GoDaddy for the same reason I don't go to Hooters or bikini barista drive-thrus. You may have really good hot wings or coffee, but I don't want to support or encourage that type of marketing. Let your product speak for itself, without the sexy gimmick.
I was even going to use a screenshot to show how ridiculous their marketing is, but I'd rather promote [Hover][3].
GoDaddy adds so many extra services to the checkout process, the vast majority of which I would never need, and makes me uneasy that I'll add something on accident and regret it. The only additional service I ever used beyond domain registration was the private registrations through Domains By Proxy, which I profiled in a separate post. DBP is good stuff.
Hover.com
Hover is a nice little oasis in the polluted world of domain registrars. Their service is simple and it works.
I first heard about them on This Week in Tech (TWiT).
For $25, they will handle all your domain transfers for you, whether you have 1 domain or 1000. For each domain you transfer, your initial registration fee is only $10 each. For that, you get the domain registration PLUS anonymous registration service.
And it's anonymous registration service that you don't need to make another account for on another site. It's built-in to Hover.com.
For all other domains you register afterwards, the price is $15/year, which includes anonymous registration. With GoDaddy, my domain renewals were $18.47 per year ($9.48 for domain registration, and $8.99 for anonymous registration). So you actually save money with Hover.com.
Use my coupon code "ReadyPrompt" and save 10%: http://hover.com/ReadyPrompt
With Hover.com, you get complete DNS and Name Server control. Check out the nice UI (update: Summer 2011, they made the DNS UI even better, not as pictured):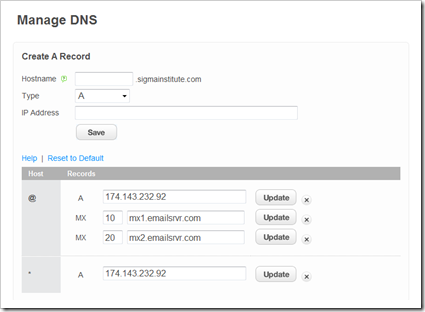 The customer service ay Hover is outstanding. When you call, you get a person answering the phone.
The gent who handled my domain transfers recreated all of the DNS and MX records, switched the name servers, and filled in all of the contact records.
The "Hover"
Hover also offers a free service on all of your domains: the ability to create a "Hover". I'm still trying to wrap my head around the concept, but it has to do with forwarding. You can create a subdirectory on your domain that will go to another location, or make your domain forward to an entirely different domain altogether. Some nice DNS magic.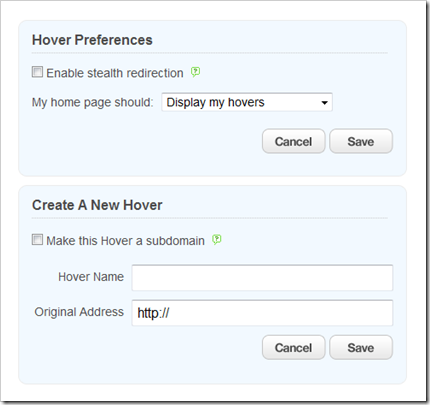 But transferring domains is expensive…
I understand. I went ahead and did all of mine at once, and now I have all of my domains set until 2012. So I won't have to worry about it next year.
Remember that when you transfer you're also adding a year to the expiration.
You can transfer one at a time as your domains get close to expiration, but I was just ready for a change.
Next post: Protect your Startup with a Delaware LLC