This is an article I'm posting just for fun. We'll get back to bootstrap startup advice next time.
I ran across a spreadsheet I made in 2000, when I was just figuring out what skills I would need to become a professional web programmer and get paid the big bucks. I had pored over numerous job postings on Dice.com, and from that I created this data: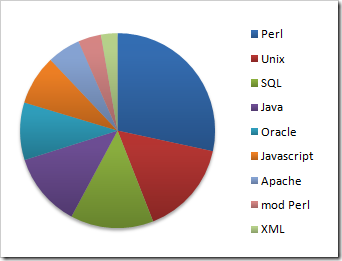 Here's the raw data (bold items are graphed):
| | |
| --- | --- |
| Skill | Job Postings |
| Perl | 134 |
| Unix | 74 |
| SQL | 65 |
| Java | 58 |
| Oracle | 45 |
| JavaScript | 39 |
| Apache | 26 |
| mod Perl | 18 |
| XML | 13 |
| NT | 11 |
| DBI | 9 |
| Solaris | 9 |
| SyBase | 8 |
| PHP | 7 |
| ASP | 7 |
| Photoshop | 5 |
| ColdFusion | 4 |
| Python | 3 |
| IIS | 2 |
| Flash | 1 |
| DreamWeaver | 1 |
| Visual Basic | 1 |
C++ at the time had 35, and is not included because it wasn't necessarily web-focused. And HTML is not included because I already knew it.
Also, in order to determine what field I should be in and the best place in the country to work, I consulted this PDF - the Information Technology 2000 Salary Survey from Kforce.
(click for full size)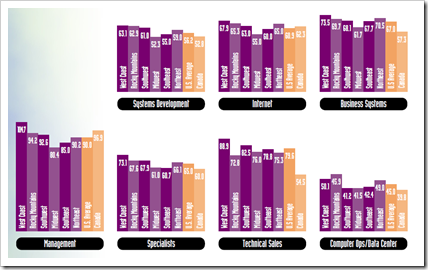 Glad I ended up on the West Coast, which at the time was the money spot.
For those curious, my first professional gig (after a good year and a half of studying web programming) was for a company just south of Seattle, and the pay was $50,000 per year. Not bad for entry-level, 9 years ago.
Hope you enjoyed this little jaunt in the time machine.
Next post: how I finally grew to love JavaScript