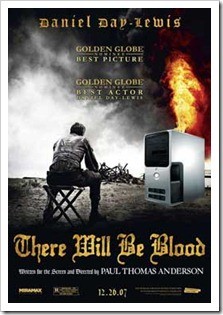 If your reaction to my last post was "screw you" or words to that effect, and you plan on running a site that will attract large amounts of traffic without a business model, you will suffer as Twitter has suffered. But in your case, users will probably never see your cutesy version of the fail whale. Your server will be so busy, backlogged, and exhausted of threads that it will not even be able to serve it. When you get to that point and want to expand to more boxes, it will be constant game of catch-up. Now if you have a good set of servers in the beginning and can see as things get rapidly worse, you'll be in good shape to get some funding when you boast of your staggering traffic. Some companies aren't so lucky. In the age of Twitter and Facebook where you're one famous person's update away from getting pounded, having the niche as your audience will save you.
The niche is fickle, yet willing to spend time and money to advance the things they care about. If the niche you're targeting is Garbage Pail Kids card collectors, a famous person's tweet may create a burst of traffic, but once everyone has seen it, that traffic tsunami will pass quickly. The reason is that most people will get a chuckle from your site and then move on. The niche traffic stays. But if your site is not niche but appeals to a broad audience, your small server city will stay flooded after the traffic tsunami. They will stay and tell more of their friends and it will get worse (or better, depending on your view).
A Real-World Example
Pollux, a tool for tagging your music (when the original source left tags off or mislabeled) was definitely buzzworthy as a free download that solved a widespread problem. Created by two college students, Chetan Surpur and Shashwat Kandadai, as a side project, and using an application that is free for non-profit use, they set up their site, allowed users to download it for free, and got completely stomped when featured on Lifehacker.
They were featured in an interview on net@night in October 2009. The interview portrays the story of their plight. The guys had used GenPUID, which was free for non-profit use, but their program was so widely downloaded, the GenPUID servers were getting hammered far beyond common non-profit use. In order to offset with a commercial license based on their downloads it would have cost them roughly $20-30,000 by then. This was the site at the time of the interview: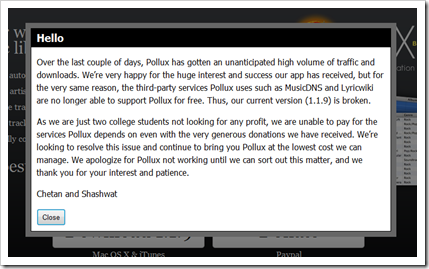 Pollux has since relaunched with a business model. They still offer a free download (that will tag 20 songs). But to purchase, it's a subscription for $10/year for unlimited tagging.
Epilogue
Niche markets are perfect for building a business slowly and organically (by word-of-mouth, not mass marketing). That slow growth allows you to add servers and employees when needed.
Next post: Interview with KnowEm